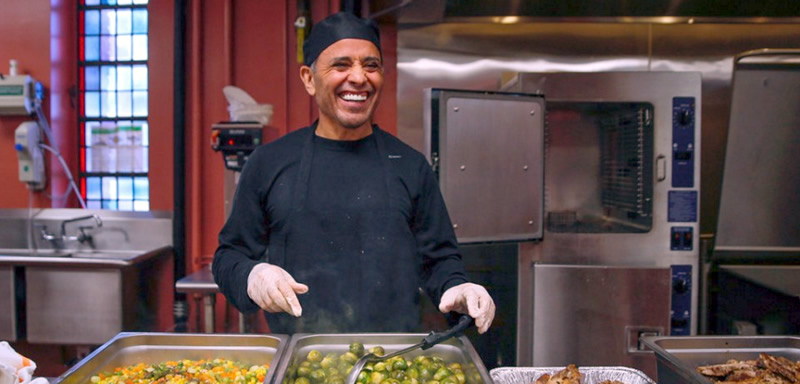 Food for Friends
The Food For Friends program at CrescentCare has been supplying meals and pantry service to clients since 1996. Before our kitchen was destroyed in Hurricane Katrina, we were preparing all meals and housing the pantry on Columbus Ave. just off Broad. Within a few months after Katrina we began delivering frozen meals out of a staff person's home. In 2009 we delivered over 23,000 meals to clients on Tuesdays and Thursdays that were prepared through a collaboration that we have with a catering company. The pantry, now located at our home office on Tulane Ave., distributed over 75,000 lbs of groceries last year.
Home Delivered Meals
Presently we have 7 delivery routes. Each route has specific directions that guide you from one client to the next from the temporary kitchen. Most routes take about an hour and are delivered between 8:30 AM and 11:00 AM Tuesday and Thursday. We have a short list of substitute drivers to call on when our regular drivers are out. Most clients are very grateful and build a light friendship with the drivers. This may be their only contact with a friendly face all day. It is a very rewarding experience.
Food Pantry
The pantry is located at 2601 Tulane Ave. at the main CrescentCare office. This has allowed clients coming to clinic or any of the other services offered at CrescentCare to also pick up their groceries at the same time. The pantry is open from 10:00 AM to 2:00 PM, Monday through Friday. Clients check in the lobby, then they are brought back to the pantry individually and assisted in their selections by the volunteers. Clients choose what they want from nine categories in a grocery store atmosphere.
Broadmoor Kitchen
CrescentCare and First Unitarian Universalist Church entered into a collaborative agreement in 2007 to open a community kitchen at the church site at Jefferson Ave. and Claiborne St in the Broadmoor area, beginning a new and very exciting time in our food service mission. Food for Friends cooks every day and needs many more volunteers. It would be wonderful if you would contact us and become a kitchen/food prep volunteer.
To volunteer for the Food For Friends program, please contact:
Doreen Keller-Tollerson, Director of Volunteers
504-821-2601 ext 215
Doreent@noaidstf.org
Or
Glen Kahrman, Food For Friends Program Manager
504-821-2601 ext. 254
Glenk@noaidstf.org


Part of a good continuum of care program for HIV and AIDS clients at NO/AIDS Task Force is making accessible healthy, nutritious, and tasty meals and grocery choices. Often clients do not have the resources or the ability to buy groceries or prepare nutritious meals for themselves.
The Food For Friends (FFF) Program of NO/AIDS Task Force has been supplying groceries, household/personal care products, and Home Delivered Meals to clients and their families in the greater New Orleans area for over two decades. FFF is one of the 38 programs that NO/AIDS Task Force offers to the HIV and AIDS infected and affected community. NO/AIDS has been serving the community for over 30 years.
Pantry
The pantry is located at the NO/AIDS Tulane Avenue location. This allows easy access for clients when they come to NO/AIDS for clinic and other services. Clients shop the pantry and select their choices of groceries, household products, and personal care items. Hundreds of clients come to the pantry monthly and select 40 pounds of groceries, personal care, and household items. In 2013 the pantry distributed over 180,000 pounds of product to clients and their families in need.
Home Delivered Meals
The Home Delivered Meals Program began service out of a small kitchen at Project Lazarus, New Orleans, over 20 years ago. The new FFF kitchen was opened at First Unitarian Universalist Church of New Orleans in October of 2013. First Church and Food For Friends will now be able to expand food services to the greater community.
"We are so thrilled to have a kitchen again where we can provide nutritionally sound meals to people affected by HIV. The complexities of HIV disease, along with the variety of medication therapies and numerous co-infections that come along with it, it's important that we are able to have our own kitchen where a chef and nutritionist can ensure that clients have access to not just food, but meals tailored to their nutritional needs," said Noel Twilbeck, CEO of NO/AIDS Task Force.
Five AIDS Service Organizations in the region refer eligible HIV positive clients to FFF for pantry and home delivered meal service. The pantry is accessed once a month and home delivered meals are delivered weekly to the client's home. For information on eligibility and accessing the pantry and home delivered meals you can call 504-821-2601 and ask for case management.
Food For Friends is always grateful for any monetary, food, or product donations and volunteers anxious to help.
For further information:
Glen Kahrman, Program Manager
Office: 504-821-2601 ext. 254
Cell: 504-421-0949
Email: glenk@noaidstf.org
Click here for additional information on volunteering for Food For Friends
Copyright 2017 | All Rights Reserved | CrescentCare